November 11, 2022
Salute to Veterans
Salute to Veterans
DATE
November 11, 2022
TIME
10:00 AM – 5:00 PM
LOCATION
USS Constitution Museum
COST
FREE
Join us to say "thank you" to those who served this Veterans Day.
Throughout the day at the Museum, we'll be giving a token of our gratitude to each Veteran visitor, offering a special veterans-only tour of the Ship, inviting military families to visit with free admission, providing a variety of engaging gallery programs, and hosting a write-a-thon to collect letters of gratitude for the veteran community.
Thank a Veteran Write-a-Thon
11:00am – 5:00pm
Help us collect 500 letters of gratitude for the military community over Veterans Day weekend! We're hosting a write-a-thon to encourage our visitors and members of the community to help us say thank you to veterans, active-duty service members and their families. We will have free snacks and treats while supplies last!
This Veterans Day write-a-thon is part of a year-long initiative of the Museum's to collect 50,000 letters of gratitude for the military community.
USS Constitution Tour for Veterans
4:00 – 5:00pm
We're offering a special, behind-the-scenes tour of USS Constitution just for veterans on Veterans Day. Space is limited and advance registration is required! Please complete this online form to register for the free tour. All veteran participants will receive a special gift from the Museum: a U.S. flag flown aboard "Old Ironsides."
Please note, guests will need to use ladderwells to travel between decks of the historic Ship.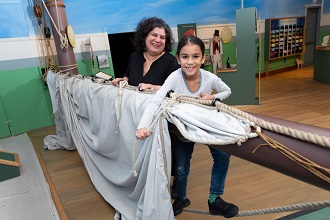 Free Admission for Veteran Families
10:00am – 5:00pm
Throughout Veterans Day, veterans and their families are welcome to visit the hands-on, award-winning exhibits at the Museum free of charge.
Gallery Programs
10:00am – 5:00pm
Enhance your experience in the Museum by participating in one of our hands-on gallery programs! Test your engineering skills in our Built to Win design challenge or see if you could stomach 1812 sailor food in our Life at Sea program. Activities are open to all ages and free with admission. 
USS Constitution Mini Golf
11:00am – 3:00pm
Weather Permitting
Stop by the Museum to enjoy a round of USS Constitution mini golf! This outdoor course, themed by key moments in the Ship's history, is back by popular demand for the last time this season.
---
This event is part of the Salute to Service Initiative at the USS Constitution Museum, made possible by the Institute of Museum and Library Services.