Join us for this two day event commemorating the "Greatest Generation" during the tumultuous war years.
Weekend activities will include tours and special exhibits, the Homefront Speaker Series, hands on history activities, a Big Band Concert, and a Sunset Swing Dance. See a Victory Garden, tour Rosie's Navy Yard, view vintage vehicles, and explore the World War II destroyer USS Cassin Young.
(All events are both Saturday and Sunday unless otherwise noted.)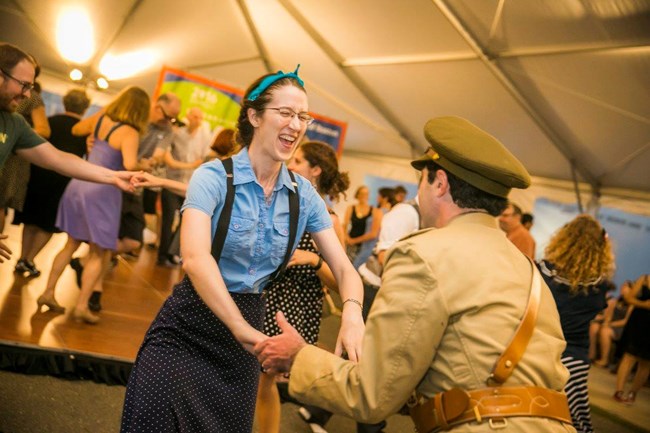 Swing, Music, & Dance
Swing the Night Away!
Saturday, Lessons at 6 pm, Dance from 6:30 – 9:00 pm- Tent
As the sun begins to set on the Charlestown Navy Yard, join Boston Swing Central and The Easy Winners to swing the night away!
The Mood Swings Orchestra
Sunday, 6:30 and 7:30 pm – Tent
Enjoy the swinging tunes of The Mood Swings Orchestra, an all female big band. Since 2003 the Mood Swings have been delighting audiences with their repertoire of swing music from the 1930s and beyond.

Hands-on History
Hands on History Tent
Saturday & Sunday – 1 pm – 5 pmDo you think you would have made a good Navy Yard employee in World War II? Try your hand making a worker badge, twisting rope, riveting, and more! Explore activities and games for little hands and the young at heart!
Don't forget to strike your best Rosie pose in front of the "We Can Do It" selfie station!
Vehicles for Victory
Saturday and Sunday, 11 am – 4 pm – Pier 1 and 1st Avenue Come explore the different kinds of vehicles that were transported by Landing Ship, Tanks (LSTs). The men and women at this Navy Yard built 44 LSTs during World War II.
Pop-up Exhibits
Exhibit: Proudly They Served:USS Mason in a Segregated Navy
Saturday and Sunday, 9 am – 6 pm
Navy Yard Visitor Center
Discover why the crew of the USS Mason made history. A temporary exhibt remembers the African American crew.
Exhibit: Rosie Roll Call
Saturday and Sunday, 9 am – 6 pm
Navy Yard Visitor Center
A new exhibit that shares the role, accomplishments, and personal memories of the over 8,000 women who lent a hand in the national war effort here at the Navy Yard during World War II.
Visit USS Cassin Young
10 a.m. – 5:30 p.m.Explore the main deck of this World War II Fletcher-class Destroyer! Look for SWON (Shipbuilding Women of the Navy) stations and learn about the vital role women played in building these ships. During World War II, over 80 destroyers and destroyer escorts were built by this Navy Yard.
Special Tours & Presentations:
Rosie's Navy Yard
Saturday and Sunday, 5:00 pm – 60 minute ranger-led tours. Tours begin at the flag pole on Pier 1.Over 8,000 women joined the workforce at the Boston Naval Shipyard to help win World War II. Join this free walking tour to explore their stories.
"Our Food is fighting" – Victory Garden Tours
Saturday and Sunday, TBA, 30 minute program begins at the FlagpoleRationing during World War II led to the creation of victory gardens to help support families on the home front. The National Park Service has replicated a victory garden on the grounds of the Commandant's House in order to demonstrate the sacrifices made at home during wartime.
USS Cassin Young Guided Tours
11 am, 12 pm, 1 pm, 2 pm & 3pm – 45 minute ranger-led tour.
See how these ships were built and learn about the men who served on board. FREE tickets are available first-come, first-served, aboard the ship. Visitors must be over 42" in height to participate in this tour. *Note: Ship activities may be canceled or modified due to weather and/or tidal conditions.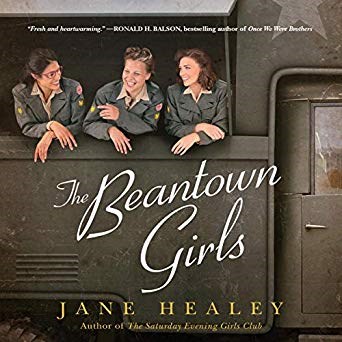 The BEANtown girls
Jane Healy, Author
TBA, Navy Yard Visitor Center
The Beantown Girls is based on the true stories of the Red Cross Clubmobile girls in the European theater of operations in WWII. In her talk, Healy will discuss the history of the Red Cross Clubmobile program in WWII, and how she weaved that history into what ultimately became The Beantown Girls novel.