Ship's Crew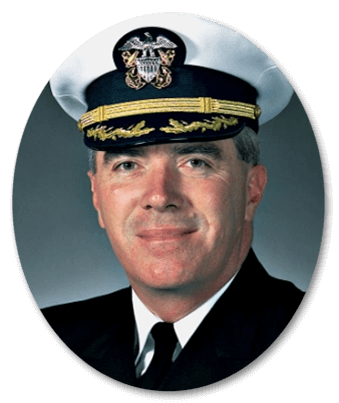 Christopher Allan Melhuish
Rank(s): Commander
Dates of Service: 7/26/1997 - 7/30/1999
Birth Date: 9/23/1957
Christopher Allan Melhuish was born in Baghdad, Iraq in 1957 and raised in North Africa. He was educated in the United Kingdom where he graduated with a Bachelor of Arts (Honors) in Physical Geography. He also served three years in Britain's Territorial Army as a Special Forces radio operator. Melhuish settled in the United States and received his commission at Officer Candidate School Newport, Rhode Island in November 1979. He was captain of the U.S. Atlantic Fleet's rifle team. His subsequent sea duty assignments included service in a frigate, three destroyers, two amphibious ships, and a Cruiser-Destroyer Group staff embarked in an aircraft carrier. Melhuish attended the U.S. Naval War College in Newport, Rhode Island, graduating with distinction in 1995. He graduated from the Armed Forces Staff College in Norfolk, Virginia in 1996. Melhuish was the lead planner for NATO's largest live exercise, "Strong Resolve," while assigned to the NATO's Supreme Allied Command, Atlantic. 
Melhuish relieved Commander Michael Beck on July 26, 1997. He was invited by Beck to report to Constitution three weeks before the change of command, and subsequently provided additional assistance to Beck for Constitution's historic sail in July 1997.
In July 1998, the final bicentennial activity for Constitution and the U.S. Navy involved an international salute to Constitution from 19 tall ships and modern navy vessels from various countries. Melhuish also initiated a U.S. Navy-wide heritage indoctrination for new chief petty officers, drafted the ship's interpretive manual, created demonstration gun and gig crews, and redesigned the crew's uniforms to a more historically authentic 1813 pattern, which was incorporated in the U.S. Navy Uniform Regulations. In 1998, Master Chief Petty Officer of the Navy James Herdt conferred the honorary title of chief petty officer to Melhuish in recognition of his support to the CPO community. Melhuish's change of command ceremony was held on July 30, 1999.
From 1999 to 2001, Melhuish served as U.S. Navy liaison officer to Commander, British Forces Gibraltar, where he and his wife were both promoted to captain by the Governor of Gibraltar in 2001. Following his tour in Gibraltar, he was selected to serve as a Senior Fellow at the Atlantic Council of the United States in Washington, DC.  After retiring in 2006 following his last active duty tour at the Atlantic Fleet Headquarters, Melhuish successfully lobbied and garnered support for the formal designation of Constitution as "America's Ship of State" in the 2009 National Defense Authorization Act.
Melhuish is a member of the National Society, Sons of the American Revolution.
---
Image Credit
U.S. Navy Photo