Ship's Crew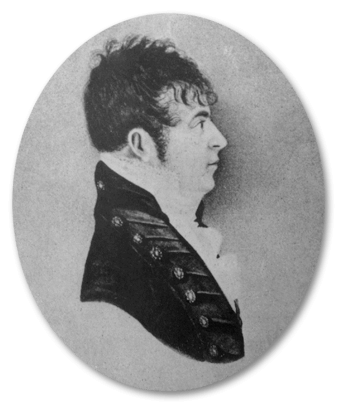 Daniel Turner
Rank(s): Captain
Dates of Service: 3/1/1839 - 11/8/1841
Birth Date: 1794
Death Date: 2/4/1850
Daniel Turner was born on Staten Island, New York in 1794. After receiving his midshipman's warrant on January 1, 1808, he was assigned to USS Constitution. On June 17, 1810, he transferred to the frigate President and remained there until June 1812, when he was ordered to Norwich, Connecticut to command the gunboats there. Promoted to lieutenant in March 1813, he traveled to Sackets Harbor, New York for duty with the Lake Erie Squadron, where he commanded the brig Niagara. Shortly before the Battle of Lake Erie, he was reassigned to command the brig Caledonia. He received a Congressional silver medal for the action, as well as a sword from the State of New York. The following summer, he took command of the schooner Scorpion. From 1815 to 1817, he served on the frigate Java in the Mediterranean Squadron. He next served in the West Indies Squadron in command of the schooner Nonsuch. Promoted to master commandant in 1825, he returned to the West Indies Squadron in command of the sloop of war Erie from 1827 to 1830, and then spent three years at the Portsmouth Navy Yard.
Promoted to captain in 1835, Turner spent a long time awaiting orders until taking command of Constitution in 1839. At that time, the ship was being readied to serve as Commodore Alexander Claxton's flagship in the Pacific Squadron. The cruise was expected to be a pleasant one, since Turner and Claxton had been long-time friends. Unfortunately for their relationship, Claxton constantly inserted himself into ship's affairs to the point where the "old friends" communicated only by written notes. All was quiet in the squadron's operating area, however, so the situation remained an internal problem. On March 7, 1841, Claxton died of dysentery and was buried at Talcahuano, Chile. Turner became squadron commander for the remaining months of the tour. He returned to Norfolk, Virginia in November 1841.
Turner next commanded the Brazil Squadron from 1843 to 1846, and then returned to the Portsmouth Navy Yard. He died suddenly on February 4, 1850 in Philadelphia and was interred in Baltimore's Greenmount Cemetery.
Commodore Turner's service has been honored with the naming of three destroyers (1919, 1943, and 1945).
---