Ship's Crew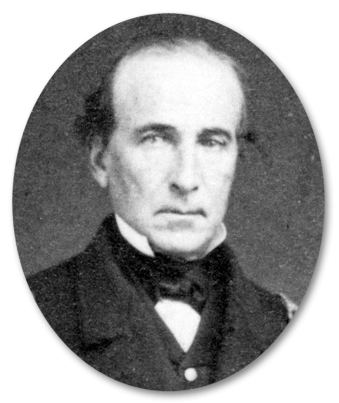 James H. Rowan
Rank(s): Lieutenant
Dates of Service: 9/4/1849 - 9/18/1849
Birth Date: 7/23/1806
Death Date: 4/29/1964
James Rowan was born in Schenectady, New York on July 23, 1806. He was warranted a midshipman on August 19, 1823. He first served on the sloop of war Ontario in the Mediterranean Squadron, and then on the frigate Cyane. This was followed by assignment to the sloop-of-war Hornet in the West Indies Squadron to suppress piracy. Later, as a passed midshipman, Rowan served as sailing master of the schooner Experiment on the East Coast. In 1835, he was promoted to lieutenant and sent to the sloop-of-war Natchez in the Brazil Squadron. From 1840 to 1842, he sailed the Mediterranean aboard the frigate Brandywine. He transferred to the frigate Potomac in the Home Squadron, and then to the screw steamer Princeton, where he saw service in the Mexican War.
Rowan reported to Constitution in Boston on September 15, 1848 to serve as first lieutenant. The ship sailed to the Mediterranean to protect American commerce, especially around Italy, which was then in the midst of a revolution. Captain John Gwinn fell ill during the summer of 1849 and died on September 4 while Constitution was at Palermo, Sicily. Rowan assumed command and, after interring his predecessor ashore, sailed the ship to Naples. There, the squadron commander ordered a more senior officer to relieve him on September 18. Rowan resumed his duties as first lieutenant and remained on the ship until she was decommissioned at Norfolk, Virginia, in January 1851.
In September 1855, Rowan was promoted to commander, and in 1856 he was ordered to command the brig Bainbridge, then newly returned to Norfolk, Virginia from the Brazil and African Squadrons. The ship, however, was decommissioned that September and placed in ordinary. Rowan was dismissed from the service on January 23, 1857. He died on the morning of April 29, 1864 after a short illness and was buried at New York City's Trinity Church.
---
Image Credit
Courtesy Naval History & Heritage Command