Ship's Crew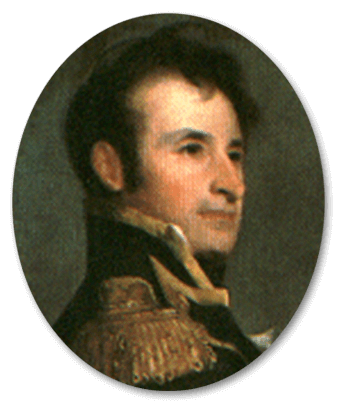 Stephen Decatur
Rank(s): Captain
Dates of Service: 10/28/1804 - 11/9/1804
Birth Date: 1/5/1779
Death Date: 3/22/1820
Stephen Decatur, Jr. was born on January 5, 1779 in Sinepuxent, Maryland. His father enjoyed some success as a privateer during the American Revolution. At war's end, the family moved to Philadelphia, where his father entered the shipping business. A voyage to Europe in 1787 awakened a love for the sea in young Stephen. His father accepted a captain's commission at the beginning of the Quasi-War with France in 1798, and Stephen received a warrant as midshipman aboard USS United States, commanded by family friend John Barry. Two cruises in the West Indies followed and, in May 1799, Stephen was promoted to lieutenant.
He commanded the schooner Enterprise during the Tripolitan War and captured the ketch Mastico on December 23, 1803. The squadron commander, Captain Edward Preble, saw an opportunity to destroy the captured U.S. frigate Philadelphia in the harbor of Tripoli. On February 16, 1804, Decatur sailed the captured Mastico, now named Intrepid, into the enemy harbor, boarded Philadelphia with his crew of volunteers, and set it ablaze. Decatur distinguished himself during the subsequent attacks on Tripoli while in command of a gunboat division.
As a reward for burning Philadelphia, Decatur was promoted to captain at the age of 25. He commanded Constitution for only ten days in 1804, and in November took command of the frigate Congress.
When Decatur arrived home in November 1806, the nation celebrated him as a hero. Congress voted him a ceremonial sword, and he, like all the commissioned officers in the squadron, received a silver medal.
War between the U.S. and Great Britain broke out in June 1812 and Decatur took United States to sea. On October 25, he encountered HMS Macedonian, a 38-gun frigate. By skillfully maneuvering his ship, Decatur demolished the British ship's rigging, then moved in with powerful batteries of 24-pounder long guns and 42-pounder carronades. Macedonian surrendered and, following repairs, was brought triumphantly back to the United States. Congress voted Decatur a gold medal and purchased the prize for the U.S. Navy.
Once United States and Macedonian were repaired in May 1813, Decatur tried repeatedly to return sea, only to be frustrated by an increasingly tight British blockade and operational mishaps. In the spring of 1814, John Rodgers left the frigate President in New York to take command of the newly completed USS Guerriere, allowing Decatur secured command of President. Finally, in January 1815, Decatur embarked from New York, but encountered a British squadron of five heavy warships. After two hours of furious combat, President had suffered such extensive damage that it was impossible to escape the British squadron. The twice-wounded Decatur reluctantly surrendered, but soon was paroled. He landed at New London on February 22, 1815, five days after the Treaty of Ghent had been ratified to end the War of 1812.
Immediately following the war, Decatur outfitted a squadron to chastise the North African state of Algiers, which had broken its earlier treaty with the United States. Decatur, with the new USS Guerriere as his flagship, met and defeated the Algerine flagship, then reestablished treaty relationships. He returned to the U.S. in November.
Appointed to the Board of Naval Commissioners in December 1815, Decatur embarked on the last assignment of his career. He became increasingly enmeshed in a tangled web of real and imaginary insult, largely manipulated by others, which played on his inflated sense of honor and prestige. On March 22, 1820 in Bladensburg, Maryland, Decatur was mortally wounded in a duel with Commodore James Barron. He died at his house in Washington that evening.
Stephen Decatur's name has been memorialized by a sloop (1839), three destroyers (1902, 1922, and 1956), and a guided missile destroyer (1998).
---