Ship's Crew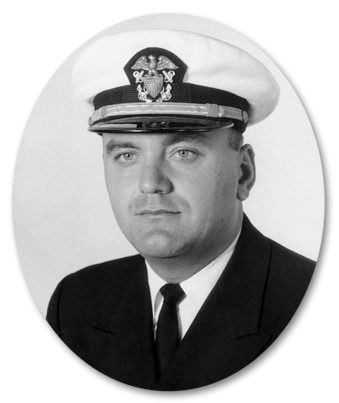 Victor Bernard Stevens Jr.
Rank(s): Lieutenant
Dates of Service: 7/1/1960 - 8/29/1963
Birth Date: 6/23/1934
Death Date: 8/22/2009
Victor Stevens was born on June 23, 1934 in Worcester, Massachusetts and grew up in the Vernon Hill neighborhood. He graduated from nearby St. Stephen's High School in 1952 and then from the College of the Holy Cross in 1956, where he earned a Bachelor of Art in English. Stevens was commissioned from Officer Candidate School in 1957. Upon leaving Officer Candidate School, he served as an executive officer of the tug Mataco (AT-86) in San Diego. He was then assigned to the salvage ship Current (ARS-22) at Pearl Harbor as an operations officer.
Stevens took over command of Constitution on July 1, 1960. During Stevens' time as captain, the ship was on display in Boston. Duties were largely ceremonial, especially greeting important persons when they visited, including Prince Canute of Denmark and General Douglas MacArthur. He also spent much time fighting for money for maintenance of the frigate. In addition, he opposed Senator Edward Kennedy's proposal, backed by President John F. Kennedy's Secretary of the Navy, to bring USS Constitution to the 1964 World's Fair in New York. He won this battle, noting that the ship's poor condition supported his reluctance to remove it from Boston for two years. Stevens' service in Constitution ended August 29, 1963, and he left the navy shortly after on September 6, 1963.
After serving on the frigate, Stevens returned to school. He was awarded a Masters and Advanced Degrees in Guidance and Psychology from Assumption College in 1967 and 1972, respectively. Stevens was the coordinator for state Naval Academy in the reserves from 1963 to 1984. He then taught English and was a director of guidance at St. Peter's Central Catholic High School in Worcester, Massachusetts. While there, he also coached high school varsity basketball. He was a member of the local Polish Naturalization Independent Club. Stevens died on August 22, 2009 in Hyannis, Massachusetts at the age of 75.
---