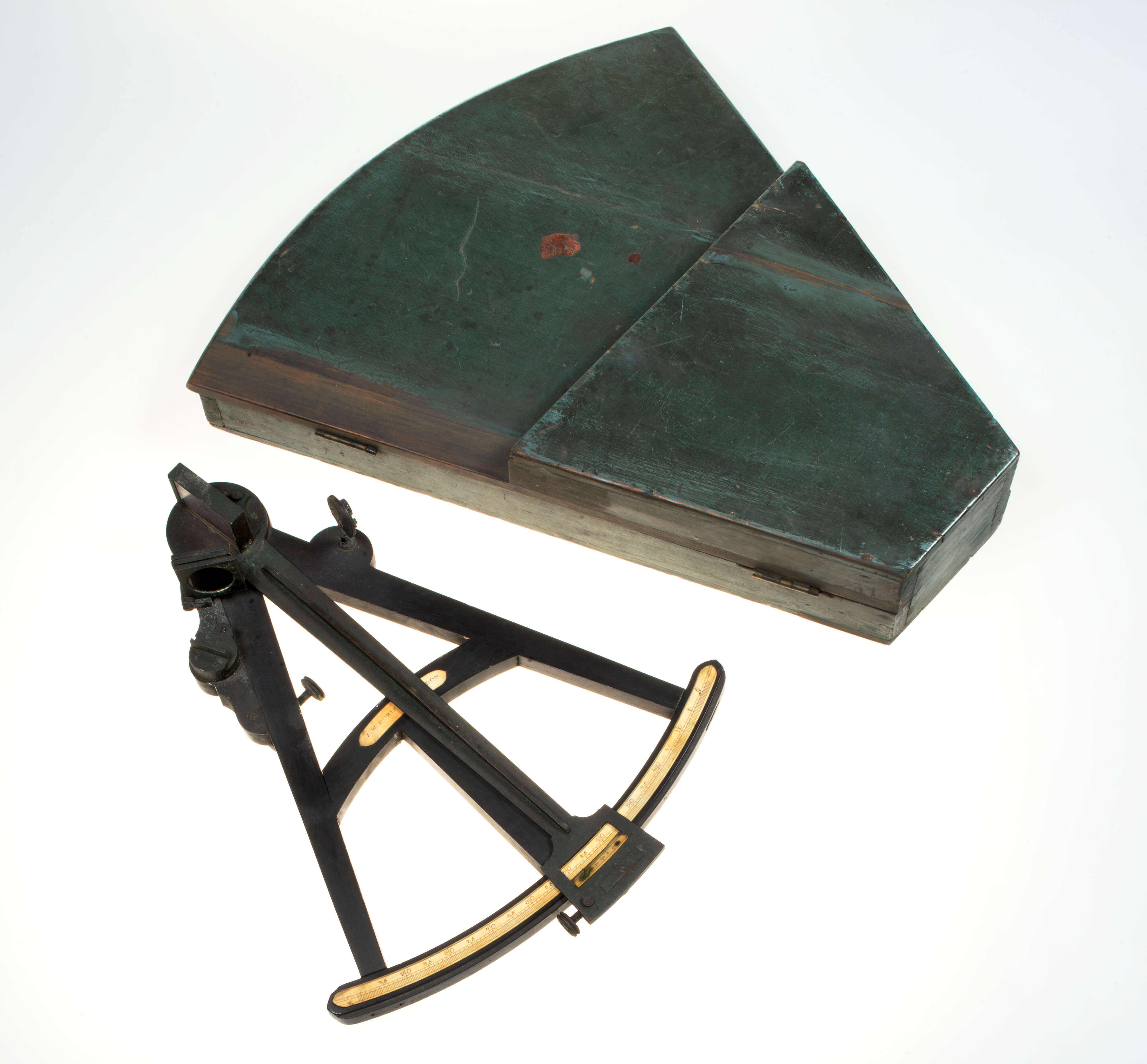 Gedney King Sextant and Box
This sextant and box are an example of the type used on board U.S. Navy and merchant ships during the late-18th and early-19th centuries.
Used for determining position at sea, the sextant primarily measured the angles between the horizon and the sun at noon to determine the ship's latitude. Unlike its predecessor, the octant, which only measured angles of as much as 90 degrees, sextants measured as much as 120 degrees. This wider capability enabled the sextant to also be used for measuring bigger angles across the sky between the moon and sun — information that was used in an early method of determining longitude.
The wooden box that houses this sextant bears the remnants of the Gedney King & Son label. Located in Boston, Massachusetts, Gedney King & Son both manufactured and sold nautical instruments. Born in Salem, Massachusetts in 1777, King opened his shop in 1800. By 1832 he had welcomed his son, Charles, into the business and the company was renamed Gedney King & Son. After Gedney King's death in 1839, Charles took over the business and from then on operated under the moniker C.G. King.
Creator
Gedney King & Son
Date Created
1820-1839
Medium
Wood, Paper, Glass, Ivory, Metal, Ebony, Bronze
Dimensions
[H]15 3/4 in. [W]16 1/4 in. [D]2 1/4 in. (Sextant) [H]16 1/2 in. [W]19 1/4 in. [D]4 in. (Box)
Catalog Number
1050.5-6
Credit Line
USS Constitution Museum Collection. Mr. John Alden Watson Bequest.
Terms of Use


This work is licensed under a Creative Commons Attribution-NonCommercial-NoDerivs 3.0 Unported License