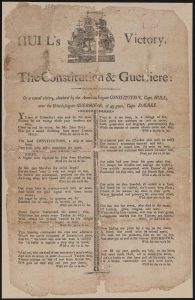 Hull's Victory. The Constitution & Guerriere
Broadsides are oversized printed sheets containing proclamations, announcements, or advertisements. They were publicly posted or distributed door to door. This broadside contains a 14-stanza poem which commemorates one of the most famous engagements in American naval history. On August 19, 1812, USS Constitution met and defeated HMS Guerriere, a 38-gun British frigate under the command of Captain James Richard Dacres. While relatively inconsequential in strategic terms for the War of 1812, the stunning victory provided a much needed morale boost for the American public. Constitution's success burnished the reputation of her officers, and proved that the fledgling U.S. Navy was every bit as professional and competent as Britain's mighty Royal Navy. This broadside, decorated at the top with a woodcut illustration of the victorious frigate, is a statement of patriotic pride.
The poem's title is a nod to Connecticut native Captain Isaac Hull, who commanded Constitution during the battle with Guerriere. Hull was born in 1773 to Sarah Bennett Hull and Revolutionary War officer Joseph Hull. He went to sea at an early age and, in 1798, accepted a commission as a lieutenant in the U.S. Navy. Hull served with distinction and rose through the ranks before becoming captain of Constitution in 1810. The defeat of HMS Guerriere showed Hull to be a skilled naval officer and represented the high point of his military career. He continued on in the Navy until his retirement in 1841 and for a time held command of the Boston (Charlestown) Navy Yard. Hull died in 1843.
Date Created
1812
Medium
Paper, Ink
Dimensions
[H]14 1/4 in. [W]9 1/4 in.
Catalog Number
977.1
Credit Line
USS Constitution Museum Collection.
Terms of Use


This work is licensed under a Creative Commons Attribution-NonCommercial-NoDerivs 3.0 Unported License