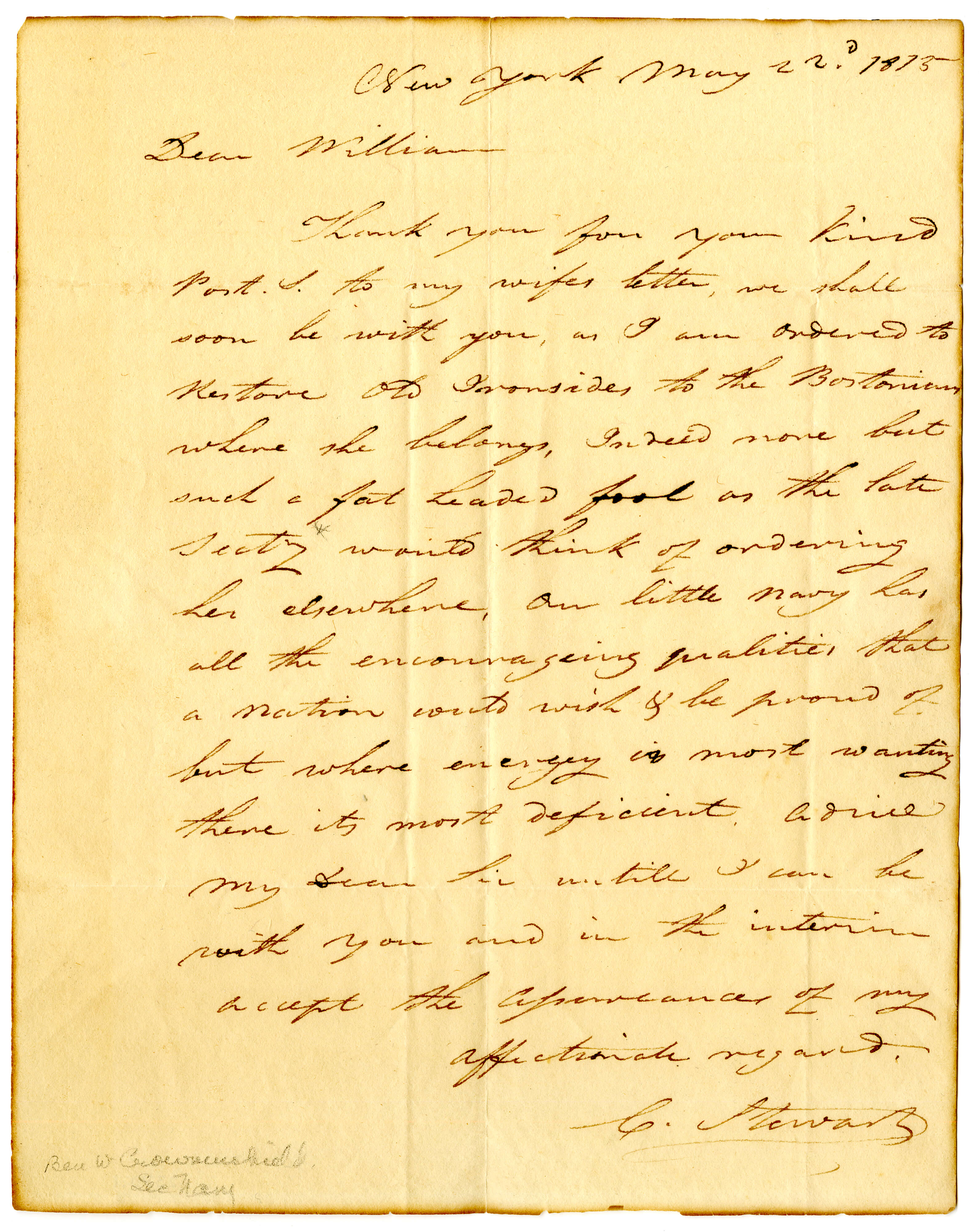 Letter from Charles Stewart to William Tudor, Jr., May 22, 1815
Captain Charles Stewart, USS Constitution's third War of 1812 commander, wrote this letter on May 22, 1815, just one week after Constitution's return to New York following her victory over HMS Cyane and HMS Levant. Upon the ship's arrival in New York Harbor, news of her final War of 1812 victory had already cemented her fame as an undefeated American warship. While stationed in New York, Stewart wrote to his brother-in-law, William Tudor, Jr., a Boston-based diplomat and author.
"I am ordered to restore Old Ironsides to the Bostonians where she belongs," Stewart wrote. "Indeed none but such a fat headed fool as the late Sectry would think of ordering her elsewhere…" Written in pencil in the lower left corner is the name "Ben W. Crowninshield/SecNavy." At the time of this letter, Crowninshield had been Secretary of the Navy since January 16, 1815 and continued to serve until September 30, 1818. Stewart was instead referring to William Jones, who served as Secretary of the Navy from January 19, 1813 until December 1, 1814. Constitution made her way to Boston that year and remained in ordinary from 1815 to 1821.
Creator
Charles Stewart
Date Created
May 22, 1815
Medium
Paper, Ink, Pencil, Wax
Dimensions
[H]9 3/4 in. [W]7 3/4 in.
Catalog Number
2380.1
Credit Line
USS Constitution Museum Collection. J. William Middendorf II Gift.
Terms of Use


This work is licensed under a Creative Commons Attribution-NonCommercial-NoDerivs 3.0 Unported License