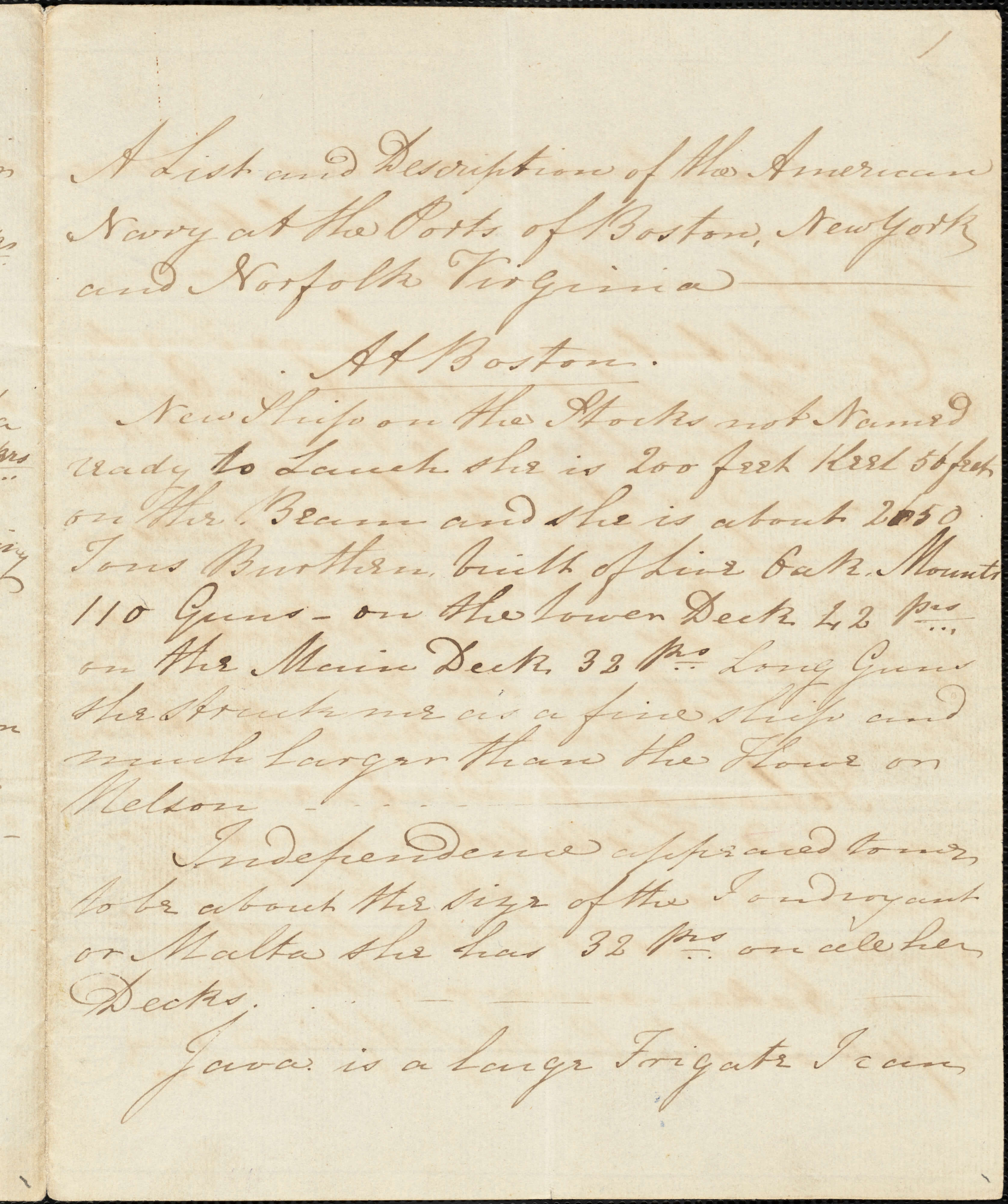 A List and Description of the American Navy at the Ports of Boston, New York and Norfolk Virginia
This nine-page document, possibly written by a British naval informant, reports on the status of the United States Navy around 1820 with references to ports in Boston, New York, and Virginia. Vessels mentioned include Constitution, Independence, Java, Ohio, Washington, Franklin, Ontario, Delaware, United States, and four large frigates being built. The report describes Constitution as the frigate "that captured the Guerriere and Java" and "goes by the name of Iron Sides." The writer remarks that he "was told that only two shots from the Guerriere came through her sides during the action." At the time, Constitution was undergoing repairs in Boston.
The British informant goes on to share some broader remarks on the American Navy, with descriptions of shipbuilding materials, armament, and Marine uniforms. In conclusion he writes, "After 20 years continued service I think I may be allowed to give an opinion, and that opinion is that the American ships are far superior to any thing we have not only in the Materials they are Built of, but that they are much larger, & that their Cannons and equipment will give them a decided superiority over our Navy: let our Officers and Men be ever so much superior to theirs."
Date Created
c.1820
Medium
Paper, Ink
Dimensions
[H]8 3/4 in. [W]7 1/4 in.
Catalog Number
1758.1
Credit Line
USS Constitution Museum Collection.
Terms of Use


This work is licensed under a Creative Commons Attribution-NonCommercial-NoDerivs 3.0 Unported License